Hugenot Torte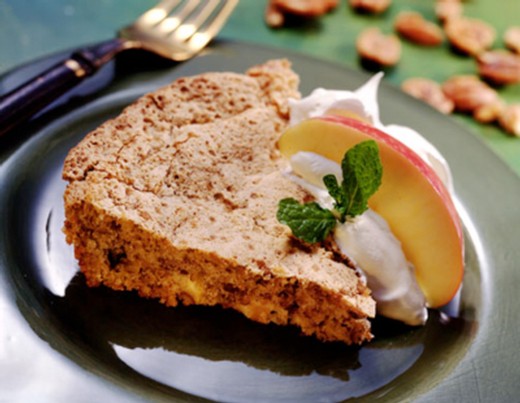 Recipe Date:
July 29, 2016
Measurements:
Imperial (US)
Huguenot Torte History: I wish we could tell you some wonderful and intriguing story that the Huguenot Torte was imbedded in the very fabric of the Ketcham family history since the first French Huguenots came to the America in 1680. Not. What I can tell you is that Allie Ketcham, wife, mom, baker and dessert maker extraordinaire makes this rockin' great Huguenot Torte and it will go great with your Thanksgiving bird, alongside the ubiquitous pumpkin and mince pies. Allie has perfected this recipe, first published in the NY Times in 1965. The Times cribbed it from the "The First Ladies Cook Book". History of the Huguenots: Forty-five Huguenots, Protestant French immigrants, arrived in the new province of Carolina on April 30, 1680, from London. King Charles II had subsidized the voyage so that the Huguenot people might establish a British territory with the crops and industries that had long been French monopolies. The group included grape growers, wine makers, brick makers, weavers, businessmen, and at least one goldsmith. They also arrived with orders that the settlement be renamed "Charles Town." That's the Huguenots in brief. Now, here is the known history of the modern Huguenot Torte ... The Huguenot Torte is Charleston, South Carolina's most famous dessert - almost all restaurants in the area serve this wonderfully delicious apple and nut torte... it is kind of like a pecan pie without a crust. This yummy creation was given the name Huguenot Torte to reflect the Huguenot's love of this dessert and their heritage. The name stuck in Charleston, and it continues to be called that to this day, even though the dessert is neither a torte nor is it of Huguenot origin. How's that for a bitta irony? It's not of Ketcham Family original. It's not from Huguenot origin and it's not a torte. This thing sounds like it could only have been fashioned and named in Congress! But, what I can tell you is that it's INCREDIBLY GOOD!!
Ingredients
2 eggs
1/2 tsp salt
1 1/2 cups sugar
1 cup peeled and chopped tart cooking apples
1 cup coarsely chopped pecans
1 tsp vanilla
4 tbsps flour
2 1/2 tsps baking powder
1 cup whipped cream, barely sweetened and flavored with 1 teaspoon almond extract.
Directions
INSTRUCTIONS:
1. Preheat the oven to 325 degrees.
2. Beat the eggs and salt with a rotary beater until light and fluffy. Gradually beat in the sugar.
3. Fold in the apples and pecans with a whisk. Add the vanilla, flour and baking powder. Pour into a well-greased baking pan about 8-by-12 or 9-by-9 inches and at least 2 inches deep.
4. Bake for 45 minutes, until sunken and crusty. Serve warm, with whipped cream.
Serves 8.