Our Family

Mark Ketcham
California native (Palo Alto), Mark Ketcham retired from his computer company some years ago. Doing little to occupy himself but playing golf and traveling, on a friend's recommendation, he started racing vintage Ferraris in the U.S. and Europe for two to four months a year. What began as a hobby turned into a small business that became Ketcham Imports. And, if racing vintage Ferraris wasn't enough fun, in 2000, Mark went on to purchase a seventeen-acre vineyard in Healdsburg. Healdsburg is the heart of the Russian River Valley Appellation, known for their famous Pinot Noirs and Chardonnays. Mark lives full time at the family vineyard home with his wife Allie and their kids Savannah and Nick.

Allie Ketcham
A Midwestern girl at heart, Allie was born in the university town of Ann Arbor, Michigan, later going to Denison University and then studying abroad at Oxford. Allie does about 100 jobs in one, raising the kids and managing all the other challenges that come with vineyard life. Allie runs the private tastings on property, the Ketcham Estate social media, marketing and customer outreach campaigns, and oversees Ketcham Estate's charitable works, which are primarily focused on children's education.

Renee Graves General Manager
Renee was born and raised in Healdsburg. Renee brings with her a wealth of expertise and excels at managing the Ketcham Estate operation. Renee and her husband are parents to three sons. Renee is very well loved within the Healdsburg community--always giving back to the schools and various local organizations. In her free time, Renee loves to ski, hike, read, travel, and is always up for a great adventure.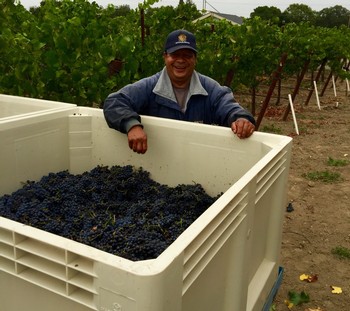 Roberto Ordaz Vineyard Manager
Ketcham Estate's vineyard manager, Roberto Ordaz, has been tending vines and managing vineyards in California for over 40 years. He lives on the property with his wife Margarita and four kids in a 100-year old house that sits by the creek. The Ordaz family has become a part of the extended Ketcham family. Besides the Pinot Noir vines, Roberto tends to some 15 kinds of heirloom tomatoes, two types of heirloom corns, Tomatillos, sweet peppers, herbs and hot peppers so ungodly hot, no Gringos dare try them.
Tami Collins Winemaker