Allie's California Caprese Salad
This is a favorite when we can pull fresh tomatoes from the garden but also works great with the sweet grape tomatoes you can find in the supermarket during the winter months. We love this as a side with steak.
- 8 ounce box of fresh mozzarella balls, packed in water, drained
- 1 pint of cherry or grape tomatoes, halved
- 2 large firm yet ripe avocados
Mix above in large mixing bowl.
Sauce:
- 3 cloves of garlic squeezed through a garlic press
- 1/2 teaspoon salt
- 3 tablespoons balsamic vinegar
- 1/2 cup olive oil
In a small mixing bowl, mix mashed garlic with salt. Add vinegar and stir until incorporated. Add the olive oil in a steady stream as an emulsion forms.
Mix dressing with salad and enjoy!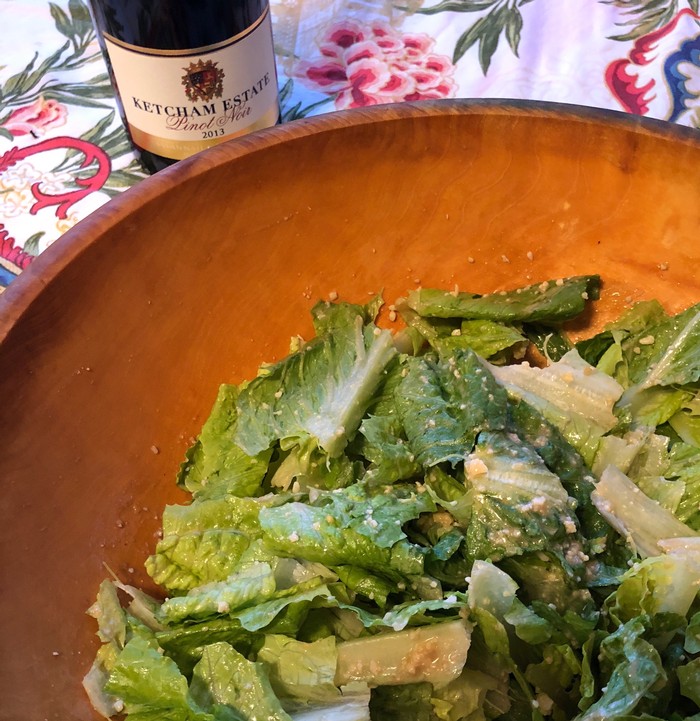 Bachrach's Famous Caesar Salad
Childhood memories are Allie's most vivid. Her first home was right down the street from the Bachrach's and they were amongst her first friends. David Bachrach introduced Allie to Caesar Salad sometime in the early 80's. To this day it is her very favorite food - and his are the absolute best.!
When David came to visit Allie in Healdsburg about ten years ago, she asked him to make his salad. Allie was curious how it would taste decades later. It did not disappoint! David shared his recipe along with a wooden bowl from The Bowl Mill in Granville, Vermont. This is now Savannah's favorite food and a recipe that Allie's family and friends adore. Thank you David!
Allie's only substitution is that she likes to use a two inch stripe of anchovy paste instead of anchovies.
Ingredients:
1) A great wood salad bowl, properly seasoned** (Got that!)
2) Romaine lettuce... Remove the heal and floppy dark green leaves at the top; hearts should be broken by hand (not cut with a knife) into 1-1.5" pieces, washed well, drained and then placed in a kitchen towel to dry properly... Put in fridge until ready to mix... One head serves 2-4 depending on portion size
3) 4 good size fresh cloves garlic (those are the portions within the bulb), peeled
4) One teaspoon fresh crushed black pepper
5) One tablespoon Dijon mustard (or 3/4 teaspoon mustard powder)*
6) Juice from one large or two small lemons*
7) 2 tablespoons Worcestershire sauce*
8) 4 tablespoons Canola oil* (generally we don't use olive oil in Caesar, but you can)
9) One egg yolk*
10) 2-4 anchovies, per taste*
11) Fresh ground Parmigiano-Reggiano cheese... about one cup for 4 people
12) Fresh croutons, to taste (1 cup for 4)
To make this puppy:
The bowl is seasoned (no more then 15 minutes before serving) by placing the garlic cloves and ground pepper into the bottom of the wood bowl and mashing them with the back of a fork... Get above the bowl and squeeze that juice out of them... That's why you want fresh gloves... Push that mixture of smashed garlic and ground pepper around the sides of the bowl and get the juice all over... If you are making salad for 6-8 double your garlic and pepper. When fully seasoned discard the garlic smoosh and pepper... Scrape it out of the bowl with the fork... Rinse the fork.
Squeeze in the lemons... Juice only, no seeds... Add the anchovies and mustard... Smoosh those anchovies... Make a paste... Add the egg yolk and whip that puppy into a smooth sauce
Add the oil and Worcestershire sauce and whip it some more spreading it around the sides of the bowl.
Dump in the chilled lettuce and toss coating the lettuce to taste*
Add the cheese and croutons and toss some more.
Serve on chilled plates immediately... Let it sit 20 minutes and it gets soggy (blah!).
*The amount of dressing is to taste... This recipe will dress a medium size salad for 4-6 (1.0-1.5 heads of Romaine)... Lighter dressing is better then too much as the taste can be overpowering... Play with amount... You can always make it and then remove 1/3 or so with a spoon and place it aside... If it seems too light, or if people want more, you can always add back some or all of the set-aside in the final toss... Judging the amount is an acquired process.
** Bowl should be 'moist' but not oily to the touch... Only use mineral oil to season... Bowl should be oiled at least every 6 months if not used regularly or it will dry and crack. The more you use it the less oiling it will require. When finished using wipe with a damp paper towel (or rinse with clean cold water and wipe dry immediately with a good cloth towel... Bowl will continue to have a garlic odor. Let bowl dry overnight before putting away. Can be used for other purposes but the garlic odor will probably make that less desirable.