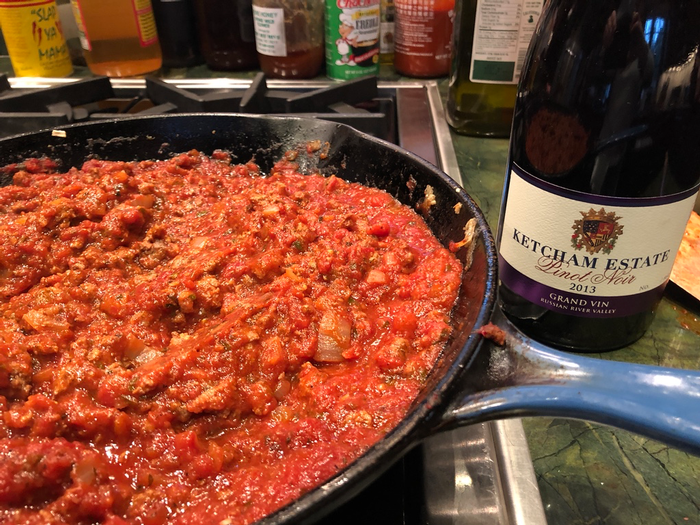 Allie's Hearty Bolognese Sauce
This is a very easy sauce that has evolved over time. Allie makes it weekly for her family and it gets devoured. Allie loves that she can whip it up in less time than it takes to boil the pasta and it can be make with food she typically already has in her kitchen. Allie cheats a little in that she adds a jar of pre-made high quality marinara sauce to the meat. Allie serves the sauce over pasta (the current favorite in her house is Farfalli) with a simple tossed salad and a loaf of frozen garlic bread (like Pepperidge Farm).
- 1 onion, finely diced
- 4 cloves of garlic, minced
- 1 pound of ground beef
- 1 tablespoon ground oregano
- 1 6 ounce can of tomato paste
- 1 24 ounce jar of good organic marinara sauce
- salt and pepper
Start the water for the pasta and heat the oven for the garlic bread.
In a large skillet over high heat brown the ground beef with onion, garlic, oregano, and a large dash of salt and pepper. Stir frequently, breaking up meat and mixing with the onion/garlic until the meat is browned, about 6 minutes.
Add pasta to water and cook to directed temperature, put garlic bread in the oven.
Lower the heat on the stove to medium/low and add the tomato paste to the meat mixture once it is browned. No need to drain. Stir to incorporate and let cook for two minutes. Add jar of marinara sauce to the pan and cook on a low simmer for about 5 minutes (or until the pasta is done and the bread comes out of the oven).
Serve over pasta and add parmesan sauce.
We suggest our biggest wine, the Grand Vin to go with this hearty meal. Allie also likes a simple tossed salad to round it all out. Enjoy!