Green Beans with Brown Butter, Wild Mushrooms and Walnuts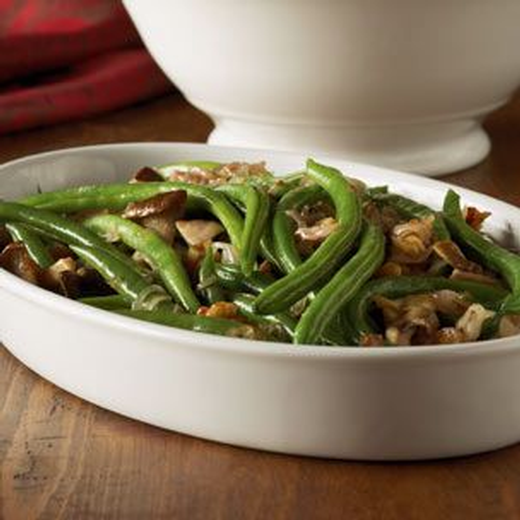 Recipe Date:
November 22, 2012
Measurements:
Imperial (US)
This is a favorite for our Thanksgiving dinner. It is a great side dish for when the weather turns a little cooler and the fireplace is turned on.
Ingredients
1 tsp Kosher Salt to taste
2 lbs Green Beans, trimmed
8 tbsps Unsalted Butter
8 Shallots - Thinly Sliced
8 ozs Wild mushrooms, brushed clean, stemmed and roughly chopped
Fresh Ground Pepper to taste
1 cup Toasted walnuts, chopped
Directions
Bring a large pot of water to a boil over high heat. Generously salt the water, add the green beans and cook until tender, about 5 minutes. Using a slotted spoon, transfer the beans to a bowl of ice water to stop the cooking. Drain and set aside. In a large sauté pan over medium heat, melt the butter and cook until the milk solids start to turn golden brown, about 5 minutes. Add the shallots and cook, stirring occasionally, until tender, about 5 minutes. Add the mushrooms and cook, stirring often, until tender, 5 to 7 minutes. Stir in the 1 tsp. salt and season with pepper. Stir in the green beans and walnuts and cook until the beans are warmed through. Taste and adjust the seasonings with salt and pepper. Transfer to a warmed serving bowl and serve immediately. Serves 10 to 12. This is a Williams Sonoma Recipe that we love and Allie makes all the time. Yum!