Corn Salad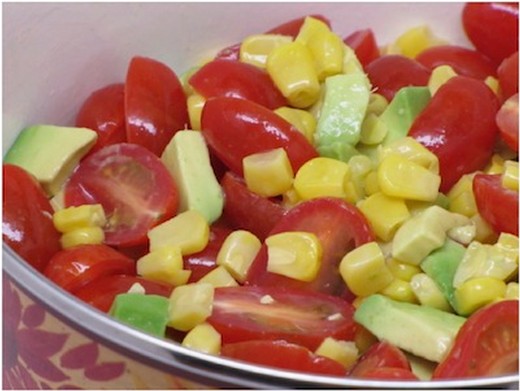 Recipe Date:
July 29, 2016
Measurements:
Imperial (US)
Suggested wine pairing with our Viognier
Ingredients
6 ears of corn, boiled (10 minutes) & cooled. Kernels cut from the cob
1 pint of cherry tomatoes, halved (or use one pound or so of larger tomatoes diced)
1 avocado pitted, peeled & diced.
Directions
INSTRUCTIONS:
Mix All Ingredients in a large bowl
DRESSING:
Juice from 1 large lemon
One finely diced shallot
Salt & pepper
Mix above and add 1/2 cup Olive Oil in a steady stream while stirring with a fork. An emulsion will form. Pour dressing over corn & serve--or wait to eat after flavors have melded together at room temperature.