Coq Au Vin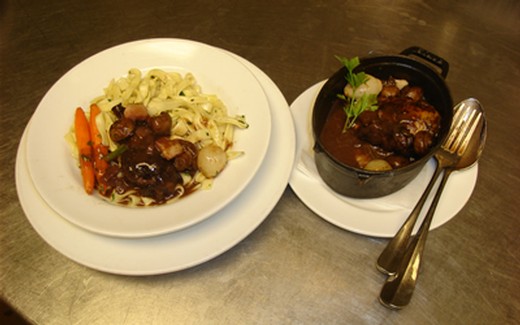 Recipe Date:
July 29, 2016
Measurements:
Imperial (US)
Just when you think you can't improve on a classic recipe, you find a great chef who is true to the dish, yet raises it to a new level. Suggested wine pairing: Savannah and Nick's Cuvee
Ingredients
Coq au Vin (4 chicken legs and 4 thighs) * See recipe 8 pieces
Braising Vegetable Mirepoix (Carrot, Onion, Celery) 1 lb mix
Braising Liquid (see recipe) 8 fl. oz.
Egg Noodles 5 oz. wt.
Butter 1/2 oz. wt.
Parsley (freshly chopped) 1 tsp.
Directions
COQ AU VIN BASE:
Chicken legs and thighs Organic (Rocky Junior) 8 pieces
Red Wine 1 Quart
Thyme 1/4 bunch
Black Pepper to taste
Bay Leaves 2 each
Parsley 1/2 bunch
Carrots 8 oz.
Yellow Onion (cut into 3/4" dice) 8 oz.
Celery 4 oz
Olive Oil Blend 1 oz.
Chicken Stock 8 oz.
Veal Stock 8 oz.
Garlic (slivered) 1 tbs
Button Mushrooms (cut in quarters) 1.5 lbs.
Pearl Onions (peeled and cook in white wine) 40
Pancetta or bacon (cut in 1/4" then "blanched in water) 8 oz.
Cocoa Powder 1 oz
METHOD:
1. Make a sachet with the thyme, parsley, pepper, bay leaves.
2. Marinate the chicken legs and thighs (cut half) in red wine with the sachet, vegetables, half of the olive oil for 24 hours
3. Remove the chicken and strain the vegetables, reserve the wine.
4. Pat the chicken dry, season and sear in a hot pan with olive oil and set aside.
5. Cook the carrots, onion, garlic, and deglaze with the reserved wine.
6. Add the chicken and slow simmer for about 35-40 minutes (don't over cook!).
7.Remove the chicken and vegetables, stir in the cocoa powder and check for seasoning. Reduce the liquid by half.
8. Store the chicken in the braising liquid, keeping the vegetable mix separate.
WHEN SERVING:
1. In a large sauté pan, sauté mushrooms, bacon, and pearl onions until nice brown and add Chicken with the sauce and simmer for 5 minutes
2. In a separate pan heat the noodles with butter, parsley and seasoning.
3. Serve the noodles in a separate dish.
4. Pour the chicken on top of the noodle with the garnish and sauce.